A Practice Built For You
Rappaport Pediatrics is a unique concierge practice, designed to offer families the personalized health care experience they deserve. By limiting the number of patients we care for, Dr. Rappaport is able to give you and your family all the time and attention you need. We pride ourselves on truly getting to know each family, resulting in earlier diagnosis, compassionate support on social, emotional, and behavioral issues, and tailored plans for wellness and disease prevention.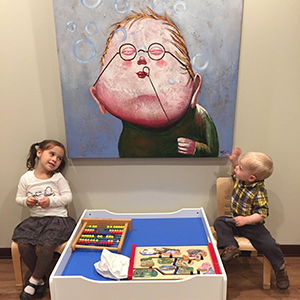 Our Office
At Rappaport Pediatrics, not only do our patients LIKE coming to the doctor's office, they often don't want to leave! You almost never have to wait to see Dr. Rappaport (or to speak to her by phone). You can schedule a quick ear check, or spend an hour discussing your developmental concerns. When you're finished – the kids are welcome to stay and play in our playroom, have a snack, and mom can relax or nurse in our comfortable glider.
Appointments
Kids don't get sick on schedule. Appointments are arranged same day when you need them, and our smaller sized practice allows us to see patients on time. The only 'triage' in our office comes from Dr. Rappaport, and together you can decide whether or not that cough requires an in-person visit. Our unhurried appointments allow you the time to explore in depth your child's development, behavior, nutrition, and health issues and to address all of your concerns.
Communication
We value your time, and trust your parental intuition. Dr. Rappaport is available to you by cell phone, text or email 24 hours a day. No more endless phone trees or waiting anxiously for a nurse to call you back. When you have a question, you get to ask Dr. Rappaport directly. Dr. Rappaport can even review a photo or video sent by email or text to assess whether your child needs to be seen in person, saving you the trip to our office. We welcome your questions, and you'll find Dr. Rappaport is an open-minded, supportive listener who can offer expert advice and guidance.
Relationship Building
In addition to outstanding medical care, Dr. Rappaport provides an extra level of service and support not found in a typical pediatric practice. By limiting the number of families we see, Dr. Rappaport is able to give you and your family all the time and attention you need. As a result, children are much more comfortable going to the doctor, and you have the opportunity to ask questions and seek guidance on parenting issues. Parents truly value the care and support they receive, and children love coming to our office!
Prenatal Visits And Newborns
Choosing a new pediatrician is an important decision. During your pregnancy, Dr. Rappaport welcomes the opportunity to meet with you (at no charge) and answer all of your questions. If you deliver at Evanston Hospital or Highland Park Hospital she will visit you there, examining the baby and spending time with the new parents. She offers valuable guidance and support for those first few days in your new world. Appointments are scheduled frequently during the first few months of your baby's life, and Dr. Rappaport provides lactation assistance, support, and tips to get you through those precious months. More importantly, she is available by cell phone, text, or email 24 hours a day to provide reassurance and address any concerns.
Older Children
As your children get older, checkups only occur once a year. However, as issues arise, whether physical health, mental health, behavioral, or developmental, you can call us at any time to discuss your concerns. The knowledge Dr. Rappaport has of your child will enable her to advise you and determine whether an appointment with your child (or you alone!) is necessary.
The valuable relationship you and your child establish with Dr. Rappaport encourages open communication and provides opportunities to discuss more sensitive topics. Issues such as anxiety, stress, bullying, and self-esteem can be addressed before they become problems, and kids are more likely to open up to a trusted, compassionate physician who knows them really well. Healthy lifestyle practices are encouraged, and older children are able to call, text, or e-mail Dr. Rappaport directly at any time.
Hospital Affiliation
Dr. Rappaport is affiliated with Lurie Children's Hospital and NorthShore University Health System. If your child is hospitalized, she will act as an advocate on your behalf and consult with specialists and the in-hospital physicians to ensure that care is coordinated regardless of location.
Come Check Us Out!
If you are moving to town or switching pediatricians, we encourage you to come to our office for a complimentary meeting to discuss your children and learn more about our practice. We want to be sure that you meet Dr. Rappaport and understand the benefits of our unique pediatric concierge practice. Call us today to schedule your appointment.